When ranking environmental projects …
mixing a little theory, logic and common sense leads to better outcomes.
Earlier this year, David Pannell started a series of short articles on his Pannell Discussions blog, on the topic of 'ranking environmental projects'. To quote David …
" My intention was go through the basic process, step by step, outlining the logic and warning about the common mistakes. The original aim was a half dozen articles, but the series took on a life of its own. There seemed to be a lot to say about each element. Some grew so much that they needed to be split into more than one episode. I also kept having ideas about additional topics to cover. Six instalments grew to become 20, and this series has now dominated my blog in 2013. If you have any involvement or interest in ranking environmental projects, I'd encourage you to read them."
The November 2013 edition of Decision Point (#75) features David's editorial summarising his blog posts on the above topic. It a nice, easy to read summary, of the key concepts worth considering when ranking environmental projects. As the article points out, it's worth thinking clearly about matters including:
what is being ranked?
factors to be taken into account when estimating benefits,
how to deal mathematically with benefits and costs, and
how to deal with uncertainty.
To access the article click here or to download a compendium of David Pannell's 20 blog posts on ranking environment projects, please visit http://purl.umn.edu/156482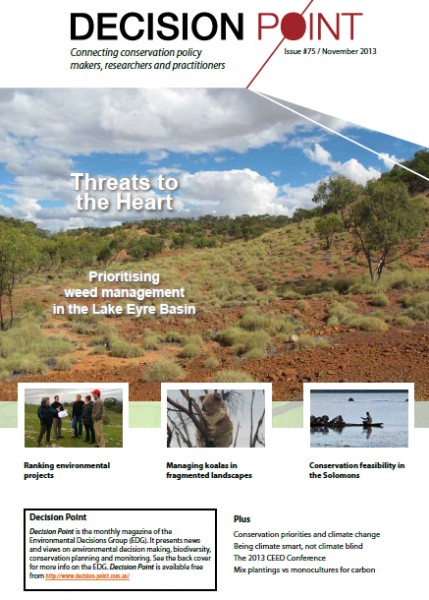 Posted 13 November 2013 in News